Absolute Attraction Mentoring Program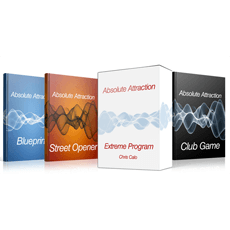 DSR Editor Rating
DSR does not provide Editor Reviews for Coaching & Mentoring.
Go to Coaching Site
Coaching Program Information
Absolute Attraction is a 90-day course that will show and teach you how to properly seduce women.
---
Experience Level(s):
Beginner
Learning Format:
Coaching & Mentoring
- Mentoring Program
Release Date:
June 01, 2010
No Price Made Available by Product Owner.
Contact Product Owner Directly.
Available in Following Cities:
N/A
---
Feedback
If you have a question or problem, ask us:
Table of Contents/ List of Topics Covered:
Module 1
- How to make yourself physically attractive to women
- The main elements that make you irresistible to women that are neither physical or mental
- How to approach women you've never met before (cold approaches)
- How to approach women that you've already talked to, but are shy to approach
- The correct angle of approach to take when approaching women
- Ways to always make a good impression when you first meet someone
- Body language that you should use every time you meet someone

Module 2
- What the right and wrong thing to say is, and how you should always start conversations
- How to deal with approach anxiety
- How to continue a conversation once you've started it in order to build attraction and interest
- How to turn off your mind and still have a conversation without even thinking about it
- How to talk for hours on end so you never run out of things to say
- Techniques to make everything you say sound interesting
- What really creates attraction and understand why women chase some men and not others
- Learn what it really means to be a man in the eyes of a woman

Module 3
- The key elements that every conversation must have in order to be successful
- What really builds attraction
- What really turns women on
- How to maintain attraction over long periods of time
- How to change a woman's mood from cold and angry to warm and happy to see you
- The elements that you must have in order to make a woman feel truly comfortable with you
---
What You Get:
Absolute Attraction Mentoring Program
- 90 days of the Absolute Attraction Coaching Program
- Ignition Guide
- Scheduled Q & A Conference Calls
- Napkin That Got my Friend Laid Revealed & Explained
- Secret Talks With the Best Minds in Seduction
- Chris Street Opener
---
Guarantee / Terms:
90 Day Money Back Guarantee
This is a membership site and you must register to log in.
User Reviews of Absolute Attraction Mentoring Program
Most Helpful User Reviews
0 of 0 people found the following review helpful
"No product/service!"
Ease of Implementation
1.0
Packaging/ Customer Service
1.0
Reviewed by
AnonymousSub
February 15, 2013
Coaching/ Bootcamps Information
Instructor(s) for Coaching:
Chris Calo
Date Program Took Place:
February 13, 2013
Signed up for membership, tried to login, says user doesn't exist. Tried the 'lost password' function, entered email & says there is no record of user in database. Called customer service, a number that leads to Canada. No one picked up, instead a machine answers back in French. Emailed multiple times and no response. I'm thinking its a scam.
Help other users find the most helpful reviews
Was this review helpful to you?
Other Top Rated Dating Coaching Bootcamps