1-Week Art of Attraction and Rapport Program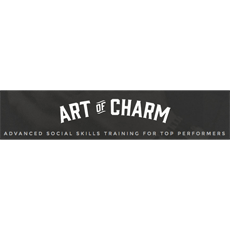 DSR Editor Rating
DSR does not provide Editor Reviews for Coaching & Mentoring.
Average User Rating
Coaching Program No Longer Running.
Coaching Program Information
Jordan Harbinger, AJ Harbinger, and Johnny Dzubak from The Art of Charm, Inc. have developed a program to teach men how to create an emotional connection with women, and other people in their life. The program teaches men what they may not know or be aware of about themselves, how to strengthen family bonds, and nurture better work relationships,
Social interaction areas covered:
- Unapologetically be your true self
- How intimacy plays a role in connecting with others
- Positioning yourself to maximize the results of what you do
- The relationship and power of integrity, values, and purpose in life
- Learn about your feelings and what motivates you into action
- Building your confidence level in order to be able to freely share emotions
The program includes a number of In-field and review hours that cover:
- How to analyze interactions
- Topic demonstrations
- Professional feedback and critique to improve interaction skills
- On-location demonstrations to learn important attraction techniques
- Daily review sessions with key points
- A progress report card
Programs also include:
- Videos
- Phone coaching
- Online resources
- Post program followup
- A reading and objectives list
---
Skillsets:
Meeting Women
Attracting Women
Inner Game & Confidence
Experience Level(s):
Beginner
Learning Format:
Coaching & Mentoring
- Mentoring Program
Release Date:
October 01, 2007
Product No Longer Available.
Available in Following Cities:
New York (US)
---
Feedback
If you have a question or problem, ask us:
Table of Contents/ List of Topics Covered:
The difficulty of connecting with people
- A system for connecting and sharing with people on deeper and emotional levels

Making deep and long-term connections
- How to develop a true connection with others

The principles of success
- How to analyze a person's behavior and discover what motivates their actions

Developing comfort levels
- Develop deep-level communication skills while maintaining a mutually comfortable environment

Eliminate awkward silence
- Techniques to fill uncomfortable conversation gaps

Real and grounded interactions
- Eliminating insecurities and social programming

Connecting on an emotional level
- The commonalities between people
- How to relate and connect on an emotional level

Showing real interest
- How to tell a woman what she want to hear
- Get a woman excited about future possibilities

Physical escalation
- The natural intimacy of touch
- How to do things naturally
---
What You Get:
45+ hours of training
---
Guarantee / Terms:
N/A
User Reviews of 1-Week Art of Attraction and Rapport Program
Other Top Rated Dating Coaching Bootcamps